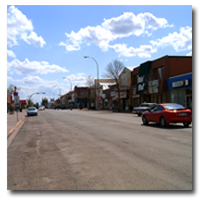 Born and raised right here in the Olds Alberta area, Dallas Elliot-Ellenton President of Global Website Creations wants to give back to the community.
If you live in right in Olds, Alberta then offer you one basic, 5 page CSS website design for ONLY $399.00.
That's over $700. – $800. off the regular price.
Included is one custom header banner graphics. Your company color/s choice, AND FREE local (Olds) front page search engine placement for one full year!
We are an affordable Olds website designer and web development company offering front page local search engine listings and free hosting for every website we create, with detailed focus on your company and local website conversions.


Our Olds Alberta Webmaster services are affordable so your budget will meet your expectations in your quest for publishing one of the best online representations possible on the internet.
Through our professional, local Olds Alberta services you will definitely have the edge in the high powered world of online success, with our high quality Olds website designers.

Do not hesitate to contact Dallas directly with any questions or concerns you may have.
OR CALL Dallas DIRECT: 403.556.5806
Creatively yours, the team at GlobalWebsiteCreations.com